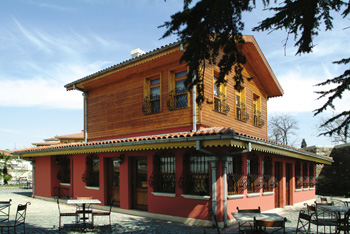 Coming to the present day just as the way it was mentioned in the novels of the famous writer Pierre Loti, Tarihi Kahve holds a rich menu including; pastry and appetizer varieties, freshly squeezed fruit juices, ice cream, mantı(Turkish ravioli), gözleme(Turkish calzone), and fast food varieties such as burgers, toasts and sandwiches along with all the beverages all for your pleasure.
A must see place in the summer months, Tarihi Kahve entertains up to 5000 guests on the weekends influencing the future generations to keep this tradition alive. Guests of all ages and nationalities have been coming to Tarihi Kahve to taste our special menus making it an Istanbul Classic.
With the fascinating atmosphere of its scenery and its decoration resembling the original ancient-Istanbul mansion, Tarihi Kahve is a two story building with a large terrace. The ground floor holds a modern cafe ambience and the top floor has been decorated with Turkish and Ottoman motifs. It can host up to 130 people on the inside and 500 people in the open air areas.
Our service starts at 08:00am with breakfast and goes on until midnight.